Regal Cinemas pulls an UBER and Enacts Surge Pricing – What Industry is Next?
by David Engel, Manager Research Consulting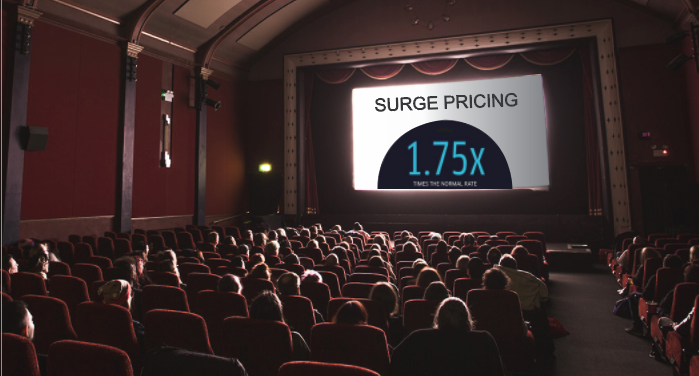 CNN recently released an article "Coming soon to a theater near you: Surge pricing for movies." Is it that big of a deal that Regal Cinemas is going to test charging more money for movie tickets during peak movie-going times and less during non-peak hours? I guess it depends on if you still go to movie theaters and how high peak pricing could become! I still see movies in theaters, but I tend to be very selective and only see movies I think should be seen on a big screen, mainly action movies.
Surge pricing/dynamic pricing/price gouging, whatever you want to call it (and there are small differences among each of those), is nothing new. It's simply supply and demand. Your UBER or Lyft is probably going to cost more when it's raining because more people would much rather ride hitch a ride. It happens when you book a Marriott hotel that doesn't have many rooms left, a Delta flight that doesn't have many seats available, or a Carnival cruise that is running out of cabin space. The prices go up because the supply has decreased. So why shouldn't movie theaters do this?
Regal is planning to raise the prices at times they think their theaters will sell out. Many theaters already do a version of this by selling cheaper matinee tickets to draw in more crowds in the mornings. However, there's a key difference between how Regal is attempting to implement its version of surge pricing than other industries. Regal is executing surge pricing before the surge even happens, meaning they are identifying certain movie times and charging higher prices instead of raising the prices as more and more people fill the seats. Predicting supply and demand could be tricky, especially with the possibility of a movie massively flopping (e.g., "King Arthur: Legend of the Sword"). The flipside is that Regal could charge less for a movie that is bombing during a non-peak time.
The next question is, what other industries are going to experiment with surge pricing? Right now, it seems to be confined to industries where the supply of something can decrease, so what about restaurants? Some restaurants already offer significant discounts on lunch specials, early bird specials, and happy hour deals to draw in more people. Could restaurants take it a step further and charge a higher price for dinner on Fridays and Saturdays than midweek, similarly to how Regal plans to roll out their version of surge pricing? They only have a certain number of seats. What if a restaurant charged a higher price for walk-ins as seats begin to fill up, similarly to UBER's dynamic pricing?
What if it extended to industries where the supply of something doesn't decrease, thus distorting the supply and demand model? For example, what if a retail store such as J. Crew noticed that a jacket was selling really well; would they raise the jacket's price?
Reading CNN's article truly sparked a ton of questions for me. Would surge pricing at a movie theater make people not want to see a specific movie? What industry might experiment with a form of surge pricing next? Let me know in the comments below!