How to Make Living in NYC a More Empathetic Experience
August 24, 2016
By Sonya Bentovich, Manager, Research & Consulting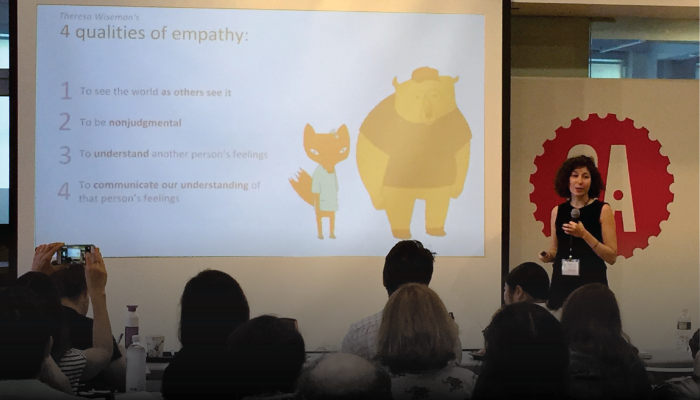 It's rush hour, you're on the subway and mere inches away from the faces of the five people sandwiching you on all sides. How are we all pretending that we don't notice each other? Why isn't this a prime opportunity for connection? From small daily moments like these to civic engagement, how can we improve the experience of living in a city by creating new ways for people to connect with one another?
This was the inspiration and premise for Shannon Copfer's brain child, the Empathy Jam, a user-centered research and design event that brought designers and developers from around NYC together at General Assembly this past Saturday. The mission was for attendees to split into teams and work through the UX design process to design "new ways to feel connected, supported, and excited about NYC's future." At the end of the day, an all-star panel of judges featuring Minerva Tantoco, NYC's first CTO, awarded the most empathy-focused project.

I was so excited to be invited to join the conversation and kick off the day by sharing my perspective on empathy as a researcher, providing interviewing tips, and illustrating how talking with people (aka research, the foundation of UX design) can facilitate and help practice empathy.
Some examples:  First, don't assume you know how someone else feels.  Start the conversation really broad.  "Tell me about your morning commute."  "What about it works for you?"  "What about it, if anything, could be improved?"
When designing for others, especially for the diversity of New Yorkers, it's important to consider wide-ranging needs and perspectives so that the final design can truly be for the general public. As open-minded and thoughtful as a designer may be, we all live inside of our own experiences, making it really hard to understand (and ultimately design for) the situations of others. The closest we can get to stepping into someone else's shoes is asking them about their experiences and accompanying them on their journeys.

And that's exactly what the Empathy Jam attendees did. They hit the streets of NYC, armed with a list of open, non-assumptive questions, and conducted "Intercept Interviews" to understand and empathize with New Yorker's experiences and needs. Then, back at General Assembly, the prototyping and testing began, mentored by Meaghan Nishiyama, creator of The UX Lab. At the end of the day, the winning project designed an updated kiosk screen to increase awareness of the key features of LinkNYC, which connects New Yorkers through public technology.
Whether it's riding the subway or using LinkNYC, empathy plays an understated, yet fundamental role in how we connect with the people, products, and services around us. What are your ideas for things we could all do on a daily basis and an interpersonal level to dial up our empathy for one another?