Healing vs. Masking: How CBD Hemp Oil Healed a Faulty Flu Shot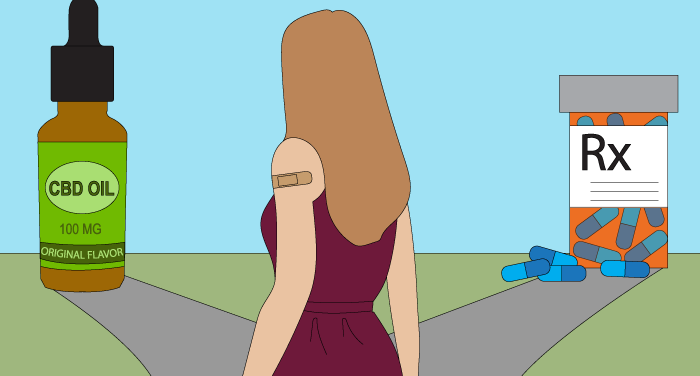 by Christine Snogans, Digital Designer
Every New Yorker knows that the city is riddled with germs and people who don't cover their mouth when they sneeze. That's why in October when I went to the pharmacy to pick up a prescription, I decided to conveniently get my annual flu shot as well. While I've never reacted adversely to any immunization, an inexperienced technician administered the injection way too high on my arm. Instead of feeling a pinching sensation, it burned.
The dull muscle ache that normally lasts a day or two after a flu shot lingered for weeks, worsening as time went on. I went to an orthopedist who diagnosed me with Shoulder Injury Related to Vaccine Administration, or SIRVA. The vaccine was in my shoulder joint causing inflammation and creating a stabbing pain whenever I moved. The doctor prescribed me 600mg of Ibuprofen three times daily. He said it could take anywhere from six months to a few years for my shoulder to heal, and in some cases surgery or pain management would be necessary.
I complied with my doctor's orders and took my medication three times a day, fighting through the nausea it caused and ignoring the voice in the back of my head wondering what such large doses were doing to my kidneys. The medication did little to help. At the height of my pain I could barely lift the sheets off myself in the morning to roll out of bed. I called my mother sobbing that morning. "What if this pain never goes away? I'm too young to have chronic pain," I told her. "I need to try something else."
Having recently completed a research project for a CBD oil company and hearing that a few coworkers have had positive experiences with the product, I decided to try CBD oil. I contacted a relative of mine who is a rep for HempWorx so we could determine what strength I needed and I placed my order. She helped me understand the difference between hemp and marijuana and assured me that what I was doing was perfectly legal, safe, and would not result in a positive drug test.
I learned that hemp is a cousin of marijuana and is used to make everything from paper to clothing to industrial materials. Hemp contains high concentrations of cannabidiol, or CBD, and low tetrahydrocannabinol, or THC. CBD has significant health benefits, such as reducing inflammation and boosting immunity, while THC is the active psychotropic in marijuana. Marijuana, on the other hand, is the polar opposite with high levels of THC and lower levels of CBD. In a nutshell, hemp has all the healing properties of cannabis without the psychoactive effects
I've been taking CBD oil for about eight weeks and am now a firm believer in its power to heal. My shoulder is almost completely pain free, save for a small twinge every now and then, and I am able to live my life normally without having to constantly compensate for a weakened shoulder. The longer I take it the more I notice its effects; my immune system kept that inevitable cold short and sweet, I am sleeping better, and most importantly I am free of pain.
While my experience with CBD oil has been incredible, I know it is not a cure-all. I still have other health issues that CBD oil will never improve, but for my shoulder CBD has been a lifesaver and a light at the end of a dark tunnel. I am truly thankful that I was able to find this amazing remedy at the time when I needed it most.
How about you? Have you ever tried CBD or want to? I'd love to hear all about your experience!