Tesco and Amazon Test Out Speedier Grocery Shopping, but are They Trading Experience for Speed?
Nic Walter, Senior Associate, Research & Consulting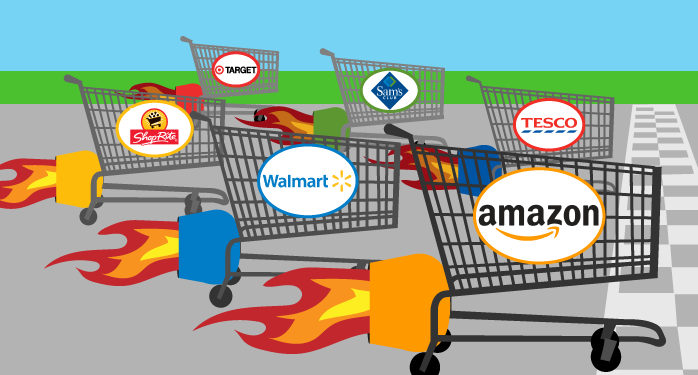 As many of us are all too aware, in-person retail is facing a major crisis. More and more shoppers are turning to digital, and physical storefronts are having to reimagine themselves or get left behind. Dozens of major retailers that heavily rely on in-person sales have filed for bankruptcy in 2017 (Hhgregg, Payless, True Religion, and Toys R Us to name a few), and the brick-and-mortar businesses still standing are working harder than ever to hold their ground, rapidly researching new ways to resuscitate and revitalize their in-person shopping experience.
A few large-scale grocery chains like Tesco, Walmart, Sam's Club, Target, and ShopRite are investigating the impact of expediting the in-store checkout process (many through app-based features like Walmart's Scan and Go and Target's Mobile Wallet) in hopes of matching the speed and effortlessness of online shopping. Recently, my coworker Jay Tye and I had the opportunity try some of these tech-accelerated shopping experiences and explore first-hand what it's like to use these new ways to get in and out of storefront faster than ever.
During a recent trip to visit family in England, I tried the Tesco's Scan and Shop feature, available at a limited number of Tesco grocery stores. The grocer installed portable hand-scanners that visitors can carry around the store as they shop to ring-up items in an effort to reduce the amount spent shopping. The process was easy and enjoyable for me when I tried it, despite worrying about accidentally forgetting to scan an item as I put it in the cart. When I asked the cashier how the test system was being received since its installation a month ago, she said that it speeds things up a little and makes her job easier by not having to scan all those items herself.
In Seattle, Jay visited an organization investigating similar technologies from the opposite end of the spectrum: Amazon. This year, Amazon (the king of speed shopping who invented "One Click") has opened the doors to its experimental Amazon Fresh Pickup grocery offering in Seattle. The concept is similar to Amazon Locker Delivery. Shoppers place their order online, schedule a pick-up, then pull into a designated pick-up lane where their license plate is scanned. Within minutes (literally 1 minute), an Amazon employee quickly wheels out the order.
Jay's experience went nearly exactly as promised (the license plate scanner only works after your first visit which was unexpected but caused no delays). All the ordered items were in the bag, as well as a free first-time gift bag of snacks.
Comparing our notes, it was clear to us that we would use either service again if they were more convenient to our individual life circumstances. Both of us currently live too far from the locations for it to be worthwhile. The time it would take to drive to the location outweighs the time it would have taken to visit a closer grocery store and pick up the items ourselves. If the math were to better align in the future, I think we would consider making the switch from our current grocers.
Yet, these new technologies add more than just a few minutes back into your schedule. They offer an exciting and novel shopping experience, and it's in this regard that services such as Amazon Fresh Pickup and Tesco Scan and Shop shine the brightest. Many organizations are successfully leveraging technology to this end, to slow people down and make them more comfortable in stores. Makeup, beauty, and apparel retailers lead the vanguard on this front. Sephora, L'Occitane, Rebecca Minkoff, and Neiman Marcus are impressively resisting the full migration to e-commerce by integrating technology into their stores that get visitors to interact with products in more meaningful ways.
At Tesco, the most enjoyable aspect of my experience was the process of scanning and reviewing my cart as I shopped, not shaving a few minutes off my grocery trip. Jay noted that he missed the chance of finding something unexpected at the Amazon Fresh Pickup. Should grocery merchants take note of apparel retail's use of tech to slow down visitors rather than speed them up, or are the industries two too different for comparison? Will expediting speed of checkout really attract more visitors in the long run?