Why E-commerce Pet Retailer Chewy is Something to Bark About
by David Engel, Manager, Research & Consulting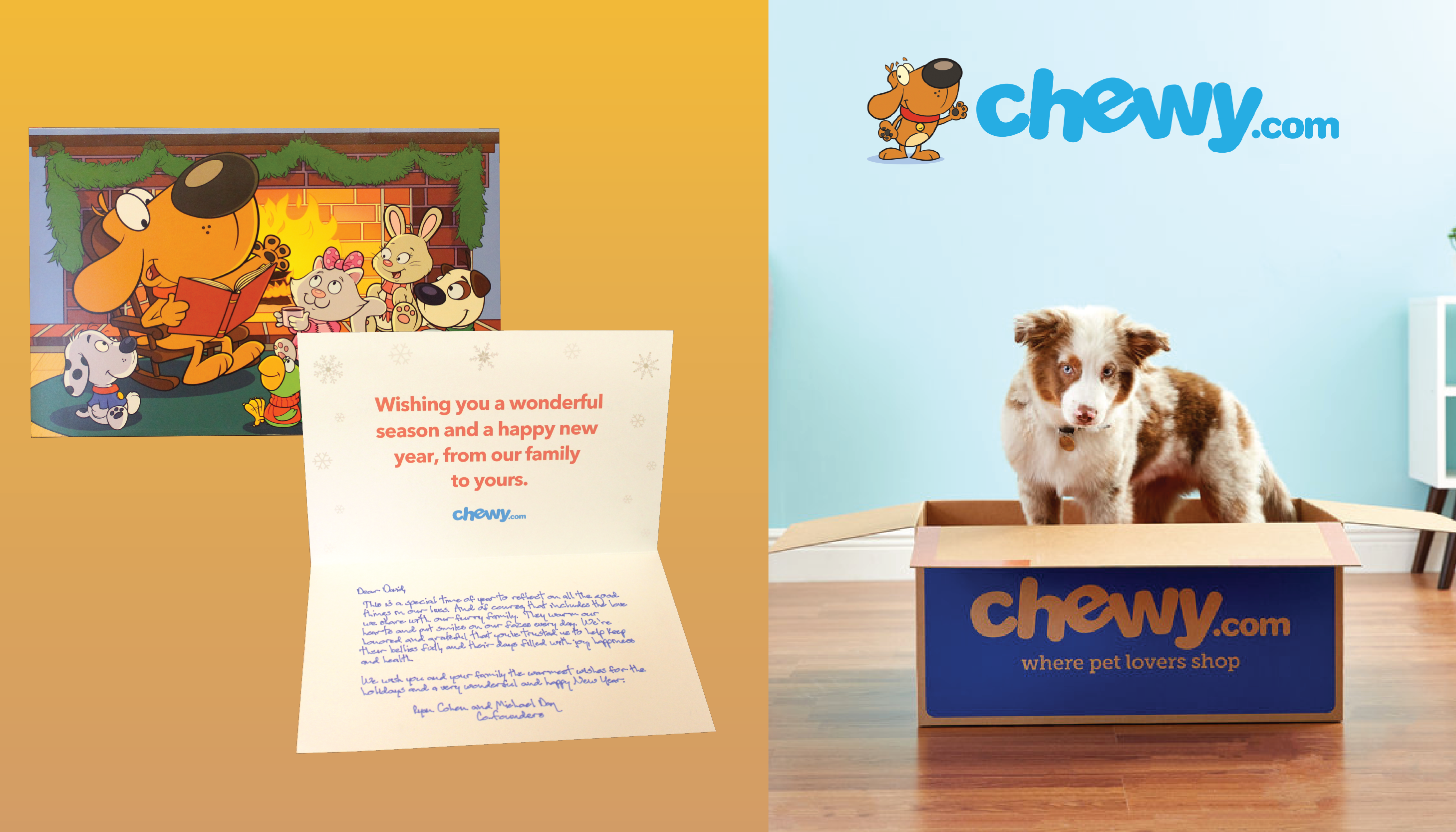 The retail meltdown looms large due to the ongoing growth and sophistication of e-commerce. CNN writes that Amazon just experienced its largest sales day yet on Cyber Monday. As e-commerce becomes more and more important for businesses' growth, how can an online brand stand out amongst the crowd? How can a company bring the personal experiential aspect of in-store shopping online? What customer service strategies can turn a one-time shopper into a life-long customer? Here is one awesome example:
Back in April, my fiancée (now wife) and I rescued Leia, an 8-week-old lab/hound mix, despite being in the throes of wedding planning. We soon found ourselves contacting some friends, who also have dogs, for advice on where to quickly shop for her, and all recommended online pet retailer Chewy. Wanting to keep my fiancée as stress-free as possible and spoil Leia, I decided to give Chewy a try instead of using Amazon despite being a Prime member.
Chewy's experience is seamless. Everyone expects moving through an online purchase process and setting up an account to be easy, though Chewy goes beyond that. Their filters are great, and creating and managing autoship (reoccurring orders) is a snap. Chewy offers even more value:
On many items, they have a "Chewy Expert," who explains the product in a short video. These videos not only help viewers further understand the product but also allow them to find other products that may be more suited for what they're actually seeking.

In a clear shot at Amazon, I don't need to be a "Prime" member to enjoy free 2-day shipping. All I have to do is spend $50 (which is easy to do when buying training treats and toys for Leia).

Additionally, when I add most items to autoship, I receive a percentage discount, and if that discount brings the total below $50, I still qualify for the free 2-day shipping. That makes me feel as if they have my back.

In terms of shipping, my 13 orders (which include multiple products in each order) have always come on time, and the contents have never been broken, torn, open, etc.

As a UX researcher, I noticed that Chewy's phone number, online chat function, "Track Order" feature, and "Returns" option are easily findable at the top beneath a "help" dropdown.

To boot, they send hand-written cards to their customers to show their appreciation.
It's no wonder PetSmart bought Chewy this year for $3.35 billion, even though they already had a thriving e-commerce business!
In an interview with Bloomberg in 2016, Chewy CEO Ryan Cohen said, "We obsess over our customers, and we know the products better than any other pet store. Our focus is that if you're looking for the best products, you call us, and we know it better. We obsess over fast shipping. We obsess over being competitively priced, and we've been able to do that at scale. And, we do all the small things right. This year we are sending out two million hand-written holiday cards that literally just went out on Friday. Being able to build special relationships with our customers has given us a really big competitive edge."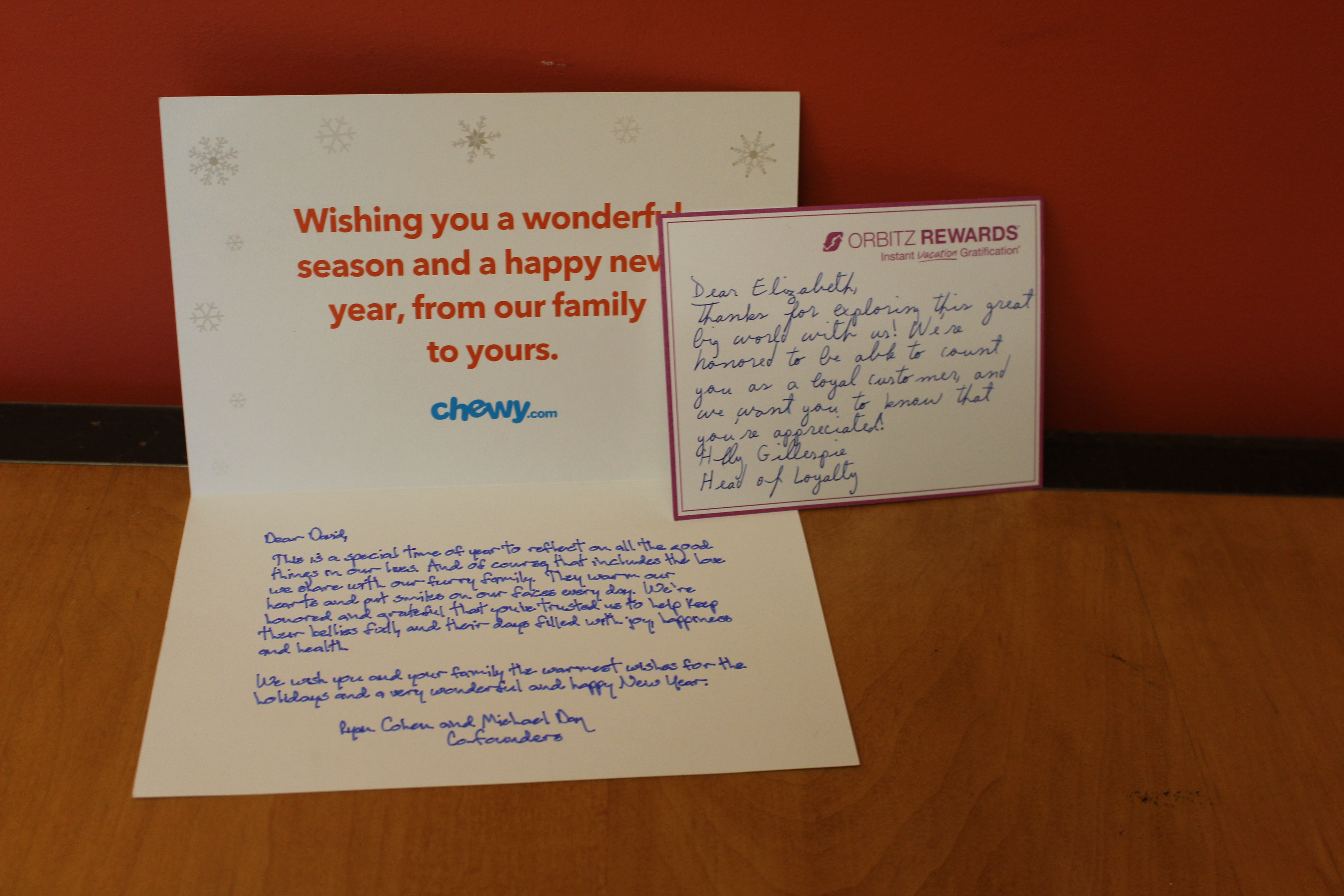 Receiving a card from Chewy brought a smile to my face. It's the second one I've received from them. Chewy isn't the only company engaging in this somewhat mass customized customer retention strategy. My wife also recently received a hand-written letter in the mail from ORBITZ thanking her for being a loyal customer. She is definitely a power user on ORBITZ, which has even given her TSA Pre✓® for free! These two examples showcase the importance of the human touch. If you are an e-tailer or have an e-commerce extension of your business, it's not just about providing a seamless experience and easily solving logistical issues. Remember to think of your customers as living, breathing humans with feelings even though you never actually make eye contact with them.
Do you have a favorite e-tailer or business with an e-commerce arm? Tell us what they are doing to gain your loyalty in this 2-question survey!