The Magic of Trader Joe's:
10 Experiential Reasons It's Worth Waiting in Line vs. Shopping Online
by Tammy Sachs, CEO & Founder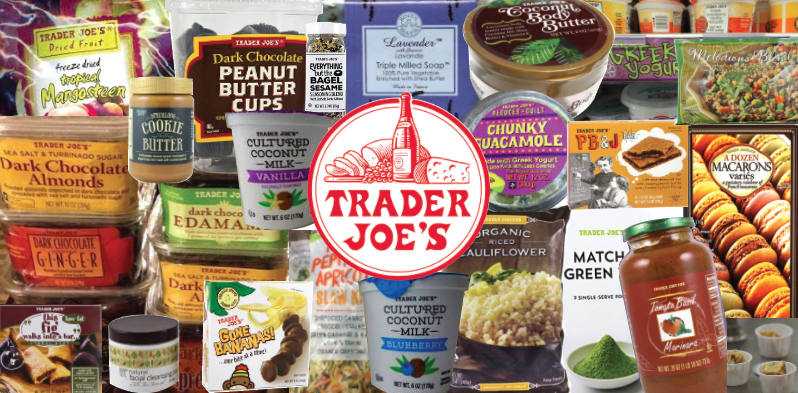 This Sunday, knowing full well I'd encounter a big crowd, I joined the line that spilled down the street to get INTO Trader Joe's. The hipsters in front and middle-aged lady behind me agreed it was NOT nuts to stand in the cold. Why? There were just too many items we wanted that you can't get anywhere else!
As I snaked through the line of other shoppers, many smiled as if we were part of the TJ cult, in which we are all too happy to drink the organic (and often gluten-free) Kool-Aid. The cult leaders are the staff who will gladly help shoppers find any missed item, carry bags into a cab, and show you the four kinds of guacamole while describing what makes each one unique. Everyone is upbeat and the vibe is, as a colleague described, "whimsical." What is it that Trader Joe's knows? I had a long time on the line to think about that:
They are always on trend with ingredient fads (e.g. cauliflower rice, matcha powder, macarons, pre-made salad mixes that look like you spent hours, awesome gluten-free tortillas, etc,)

They put Reese's to shame by dipping everything in delicious dark chocolate.
While over 90% of the product sold is their own generic brand, they also carry certain name brands the Chief Shopping Officer has on the list – EmergenC, Fage yogurt, Clif bars, etc.

Their personal care products are amazing versions of ones you can find at luxury stores for 10x the price (e.g. French Triple Milled Lavender soap)

It is delightfully devoid of robotic tech. Instead, staff members wear Hawaiian shirts and manage lines with paddle boards.

There is an incredible cross-section of people of all ages and demographics who suggest products to one another and hold your place in line.

It's an education. I've learned about Hatch chilies, Spindrift soda and Mangosteens. Who knew that was a fruit?

It just feels healthy being there, even when buying matcha white chocolate bars or Italian blood orange soda.

The packaging, product names, and photography are funny and irresistible. Some of my favorites merchandise names are: Trader Giotto's Basil Tomato Sauce, Melodious Melody veggie mix, Scandinavian Swimmers (aka Swedish fish).

Staff gives out samples of recipes made from their products --offering an opportunity to try and buy.
When watching people pay for the many items they accumulated during their adventure, no one seems to mind that the bill is probably double what they intended. Why? The stuff is so awesome, healthy, and usually great value. How can anyone resist? Seeing the magic unfold at any TJ's gives me hope that other retailers will pick up on some of their special sauce. If it's possible to make grocery shopping delightful, anything is possible!
TJ's know well who their customers are and aren't. If you crave Skippy Peanut Butter and Cap'n Crunch or the idea of a line creates a cold sweat, this place might not be for you. What do you think of Trader Joe's success formula? What other brands are defying the online shopping trend by making it irresistible to visit and buy?